Arlene Fricke Celebrates 50 years!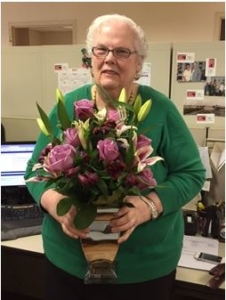 Arlene Fricke, resident of Cranford, NJ, is celebrating her 50th work anniversary this month with the New Brunswick based law firm Hoagland, Longo, Moran, Dunst & Doukas.  As if this milestone wasn't noteworthy enough, Arlene's work anniversary actually exceeds the firm's own 40th anniversary which they are celebrating this year.
This is because Arlene was there when it all began.  From a 3 attorney firm in Elizabeth, NJ to the 80+ attorney firm with 6 offices that it is today, Arlene was instrumental in the expansion during a time of typewriters and carbon paper.  She still mainly supports the same attorney, Ted Hubert, as she has for the bulk of her career, and has seen their relationship come full circle as his son is now a lawyer at the firm as well.  She calls this "simply special."
After her graduation from Berkeley Secretarial School in 1967, Arlene obtained a position at the law firm of Ryan Saros Davis & Stone in Elizabeth, NJ, which later became Longo & Stone.  In 1977, Longo & Stone merged with the firm Cohen Hoagland & Keefe out of New Brunswick to form Hoagland, Longo, Oropollo & Moran in 1977.  The firm from there became what it is today, and renamed itself Hoagland, Longo, Moran, Dunst & Doukas in 1992.
When asked about her time when the firm was much smaller, Arlene said, "One of my fondest memories was when we would stand around the library table early in the morning with the partners to open the mail.  We would create an assembly line together to sort and distribute.  Today we have a mailroom!"
Not only was Arlene the mailroom, but as a secretary/legal assistant, she did accounting, took care of the firm's calendar including lawyers' daily assignments and any other hat she needed to wear when necessary.  She admits that it was a bit simpler in the days of snail mail and manual billing, and when answers and responses were not expected to be instantaneous.  However, she prides herself on the ability to adjust with the times, and the new systems and machines that came with it.
Arlene recalled the evolution of dictation.  In secretarial school she learned "Gregg Shorthand" which to any millennial today looks like chicken scratch on a piece of paper (see example to the right).  For Arlene, this was the easiest method to capture everything the attorneys needed to have typed up.  That then evolved into attorneys dictating onto cassette tapes that Arlene would then put into a clunky machine that she would listen and type from.  Now, dictation machines are portable and virtually weightless …. but Arlene finds herself being able to resort to some Gregg Shorthand in a pinch!
When asked about her take on the direction of the firm, Arlene explains that she is very happy with it and that no matter how the firm expands, the tight-knit culture remains the same.  She states, "Hoagland Longo has been my family.  When I tell people that I have had one job my entire life, they are very surprised.  When you work at a job that you like, and for people who you like and who appreciate you, then I think you have a formula for a good job".
On behalf of Hoagland, Longo, Moran, Dunst, & Doukas, we would like to formally thank Arlene for her services the past 50 years.  She has been a vital asset to the expansion of the firm, and a true part of our core.  Congratulations!