Hoagland Longo Announces New Partners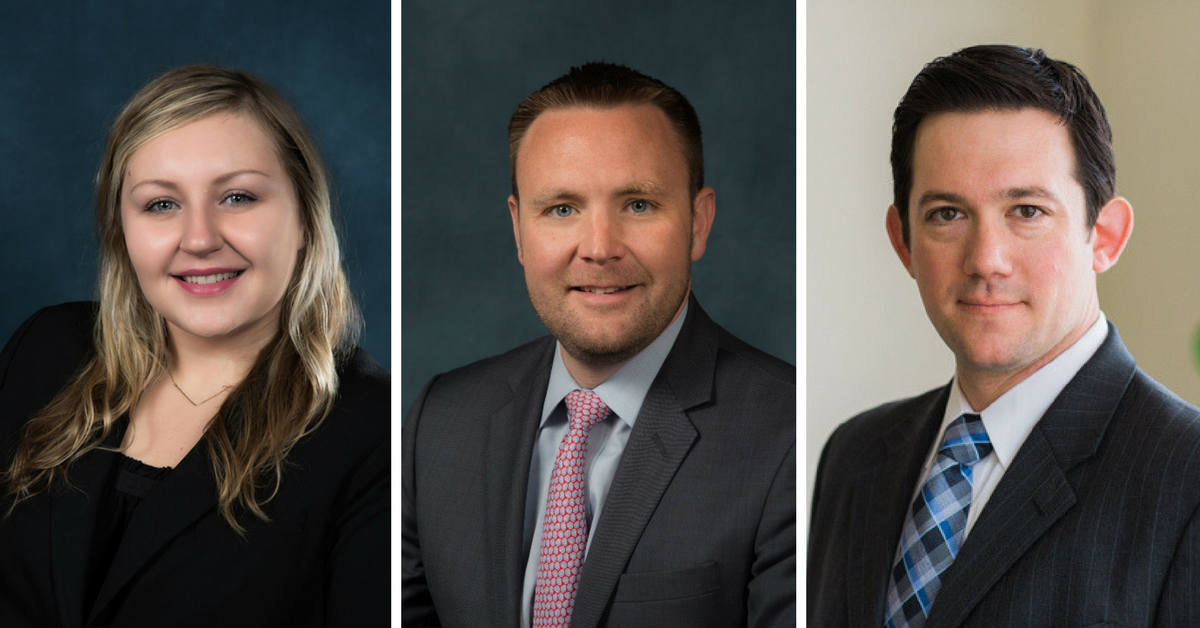 Hoagland Longo is pleased to announce the promotion of three attorneys—Monica R. Kostrzewa, William G. McGuinn, and Joseph A. Petrillo—to partnership.
 "Monica, Bill and Joe are outstanding lawyers who exemplify our firm's commitment to excellence in client service," says Gary J. Hoagland, managing Partner at Hoagland Longo. "They have incredibly bright futures and I'm delighted to welcome them to the partnership."
At Hoagland, Longo, Moran, Dunst & Doukas, we pride ourselves on developing expertise in our areas of practice. Our Partners are distinguished by their demonstrated success in their specialized area. They are true assets to our ever-growing firm.
Monica R. Kostrzewa- Monica is a partner in the firm's Environmental and Toxic Tort Department and focuses her practice on New York mass tort and product liability actions. Monica oversees the day to day handling of all New York asbestos litigation cases throughout the state. She also is a member of the New York trial team where she has served as second chair in many trials in New York state, assisting our lead trial attorney in all phases of trial, from jury selection through resolution. Since joining the firm in 2008, Monica was quickly recognized for her extensive experience in Products Liability and was named Rising Star by New Jersey Super Lawyers in 2016 and 2017 for her work in this area.  As a valued member of our nationally respected Environmental & Toxic Torts team, we are pleased to have Monica as a partner in our firm.
Click here for Monica's full bio.
William G. McGuinn – Bill is a Partner in the firm's Criminal Defense and General Liability Groups.  Practicing in Municipal and Superior Courts across the State, Bill represents clients charged with various criminal charges, including drug and weapon offenses.  He also has extensive experience in the field of DWI (driving while intoxicated) law: having taken over 50 cases to trial.  As the Aberdeen Township Municipal Prosecutor, Bill is responsible for prosecuting criminal offenses such as drug charges, assault and theft, and a multitude of motor vehicle infractions.  In 2016, The American Institute of Criminal Law Attorneys recognized Bill as one of the Top 10 Best Criminal Law Attorneys in New Jersey.  In addition to his criminal experience, Bill also has significant experience litigating personal injury defense matters and related insurance coverage issues.  He has successfully represented a broad array of clients including security companies, nightclubs and bars in negligent security and assault/battery claims; as well as casinos, property owners, event promoters, concert venues and restaurants in personal injury claims, liquor liability claims and dram shop litigation.  We are pleased to have Bill as a partner in our firm.
Click here for William's full bio.
Joseph A. Petrillo - Joe is a partner in the firm's Construction Law Department where he focuses on cases involving construction defect claims, professional liability, and consumer fraud. Throughout his career Joseph has been successful in attaining the desired results for his clients in a number of different areas including architect/ engineer malpractice, construction defect claims, subrogation, consumer fraud, breach of contract, and homeowner claims, amongst others. Joe is also applauded for his pro-bono work for Superstorm Sandy victims in Union Beach after the storm's tremendous damage to numerous homes. He is a guest lecturer at Rutgers School of Engineering and a proud member of the Monmouth County Bar Association. We are pleased to have Joe as a partner in our firm.