Hoagland Longo Attorneys attend Perrin Annual NY Asbestos Litigation Conference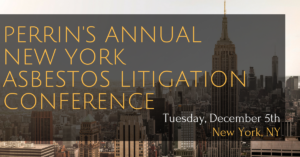 On December 5th, Marc S. Gaffrey, Monica Kostrzewaand Jason Riemer will be attending Perrin's annual New York Asbestos Litigation Conference at The Wyndham New Yorker Hotel. This consistently well attended conference will focus on  the latest in Asbestos litigation, equipping attendees with up-to-date information for the new year. Topics include New York filing trends, Admissibility of Article 16 Evidence, Daimler's impact on personal jurisdiction issues in asbestos litigation and the possible impact of these appeals for the future of the practice area. 
Hoagland, Longo, Moran, Dunst & Doukas is a premier law firm with a national reputation and recognition in the areas of Environmental and Toxic Tort law. With decades of experience in the field of asbestos and toxic tort litigation involving more than 25,000 claims and over 40,000 plaintiffs, Hoagland Longo's approach to the defense of our clients is disciplined, structured and results-oriented. 
For more information, or to register for this conference, please visit Perrin Conferences.