Hoagland Longo Earns 2022 "Best Law Firms" Rankings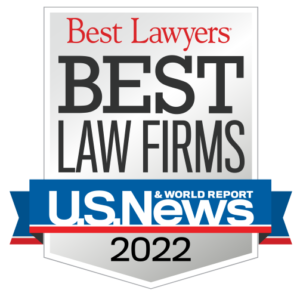 Hoagland, Longo, Moran, Dunst & Doukas, LLP is ranked nationally and in New Jersey by U.S. News & World Report and Best Lawyers in the 2022 edition of "Best Law Firms."
Our Land Use practice group has consistently earned national recognition since 2017. In New Jersey, the firm received high rankings for our legal services in arbitration and mediation, construction law including litigation, real estate litigation, insurance law, medical malpractice defense as well as professional malpractice defense.
According to U.S. News and World Report and Best Lawyers, firms are ranked as "Best Law Firms" after a rigorous evaluation process based on client feedback and peer review. To be eligible for a ranking, a firm must have at least one attorney listed in The Best Lawyers in America, which recognizes the top four percent of practicing attorneys in the nation. 16 attorneys from Hoagland Longo were recognized in the latest edition.
"Best Law Firms" is published by Best Lawyers in partnership with U.S. News and World Report. The aforementioned organization is a private peer review organization, not court specific public certification vehicle. No aspect of this advertisement has been submitted to or approved by the Supreme Court of New Jersey.