Hoagland Longo Partners with Diversity Lab in Midsize Mansfield Rule Certification Program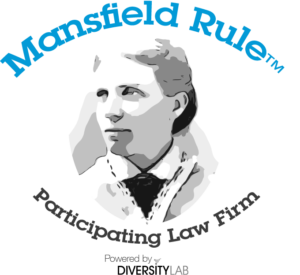 Hoagland Longo is pleased to announce that the firm has signed on to participate in Diversity Lab's Mansfield Rule for Midsize Law Firms certification process. Modeled after the original Mansfield Rule, the Midsize version aims to boost diversity at law firms with leaner leadership structures and lawyer population. The firm joins 70+ law firms in the second iteration of the Midsize Mansfield Rule, which will run from September 15, 2021 to March 14, 2023. Read the official press release here. 
Now in its fifth year, the Mansfield Rule has become the standard by which law firms track and measure their efforts to boost diversity at the leadership level by broadening the pool of candidates from historically underrepresented groups such as women, racial and ethnic minorities, lawyers with disabilities, and LGBTQ+ lawyers who are considered for leadership positions, senior-level lateral hiring, promotions, and participations in client pitch meetings. Hoagland Longo achieved 3.0 Mansfield Rule certification in 2020 among national and international law firms across the United States.
The Mansfield Rule is named for Arabella Mansfield, who in 1869 became the first woman admitted to the practice of law in the U.S. It is also inspired by the NFL's Rooney Rule, which requires teams to interview at least one diverse candidate for open leadership positions such as head coach and general manager.